Instaperfect: Het perfecte plaatje
Steeds meer krijg ik de kriebels van de 'perfecte' Instagram feeds. Overal hetzelfde filtertje overheen, 13 in een dozijn foto's, koppies allemaal in precies dezelfde schuine hoek. Klik maar eens op een willekeurige #hashtag en in het zoekoverzicht zie je alleen maar dezelfde soort foto's. Het lijkt soms zelfs wel, alsof het allemaal dezelfde personen zijn. Schijn bedriegt want het zijn toch echt allemaal verschillende mensen. Maar waarom wil iedereen toch allemaal dezelfde plaatjes laten zien en nog erger: er praktisch hetzelfde uitzien? #instaperfect
Onderscheiden of meegaan met de meute
Hoewel het natuurlijk als zoveelste mamablogger moeilijk is om je te onderscheiden, zie ik liever 'eerlijke' feeds. Echte verhalen en niet alles geënsceneerd. Het volgen van verschillende bloggers blijft juist interessant als ze allemaal wat anders laten zien. Natuurlijk is een mooi genomen foto af en toe ook prima, maar liever heb ik gewoon een kijkje in jouw (ontplofte) keuken.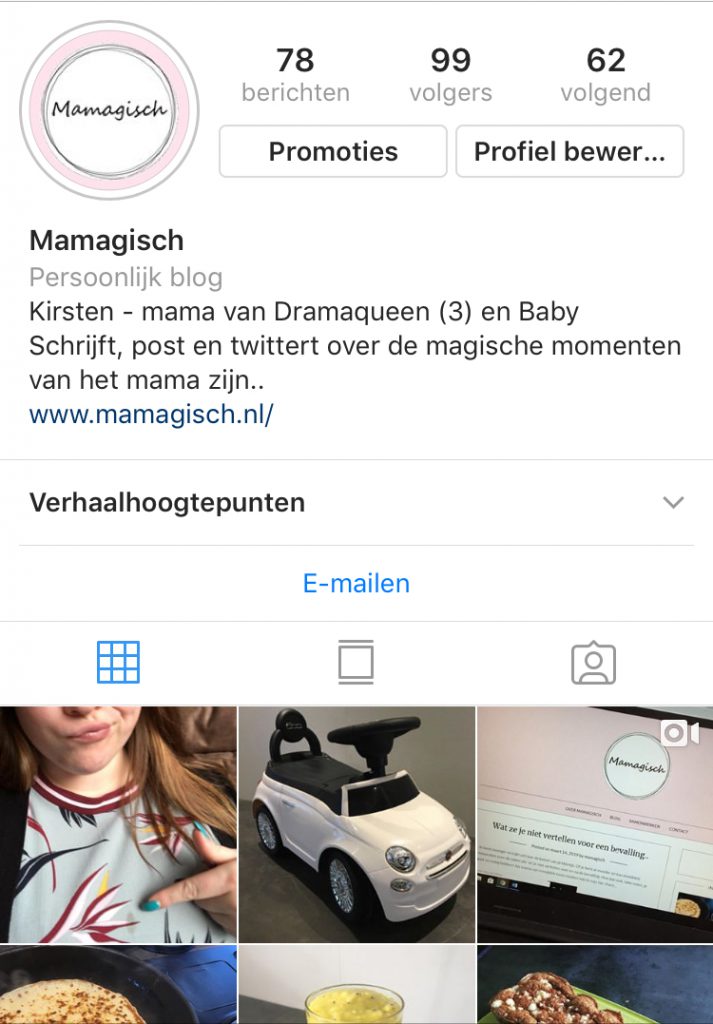 Waarom je bij mij gewoon 'the real deal' te zien krijgt
Ik maak mijn foto's gewoon met mijn iPhone 6. Niks fancy, niks spannends. Zo heel af en toe gebruik ik een filtertje om kleuren wat meer te laten spreken (of wallen weg te werken) maar eigenlijk vind ik het onzin. Mensen volgen me op Instagram niet omdat ze een Instaperfect plaatje willen zien. Ze volgen me omdat ze nieuwsgierig zijn naar wat ik doe, wat ik kook, wat ik meemaak, wat ik te vertellen heb. Ben ik minder interessant omdat ik niet elke foto op dezelfde manier bewerkt? Maakt me dan minder volgbaar? Jammer dan. Je krijgt wat je ziet. Niets meer, niets minder.
Wat vind jij?
Gooi jij al je foto's door hetzelfde filtertje zodat je feed #instaperfect is, of gebruik je Instagram gewoon waarvoor het bedoeld is: het delen van leuke foto's? Vind je een profiel leuker om te volgen als alle foto's bewerkt zijn of zie je liever 'echte' foto's.