Zijn er nog wel mensen zonder Netflix? Ik kan het haast niet meer uit mijn leven wegdenken. Ik ben de afgelopen jaren steeds minder tv gaan kijken, mede omdat het aanbod zodanig triest is, dat ik liever een film aanzet. Ik hoef m'n tijd niet te verdoen aan mensen die hun leven in puin hebben, of een miljoen winnen (we heel fijn hoor, voor die mensen) en besteed mijn tijd dus liever aan andere zaken. Netflix is voor mij echt ideaal, omdat ik ook tussendoor even een paar minuutjes kan kijken. En ik kijk ook echt alleen maar de dingen die ik leuk vind, zonder die ellendige reclames.
Wat kijk ik nu op Netflix?
Spaanse telenovelas
Ik ben dol op Spaanstalige series op Netflix. Deze series hebben vaak gewoon net een beetje meer *drama* dan de gemiddelde andere serie. Daaarnaast, ik steek er ook nog wat van op. Op de middelbare school kreeg ik twee jaar Spaans en ik moet zeggen, als je het maar weer vaak genoeg hoort, blijft er genoeg hangen. Op dit moment kijk ik Las Chicas del Cable, over de telefonistes in de jaren '20. Ik ben er pas net aan begonnen maar ik vind het nu al erg intrigerend.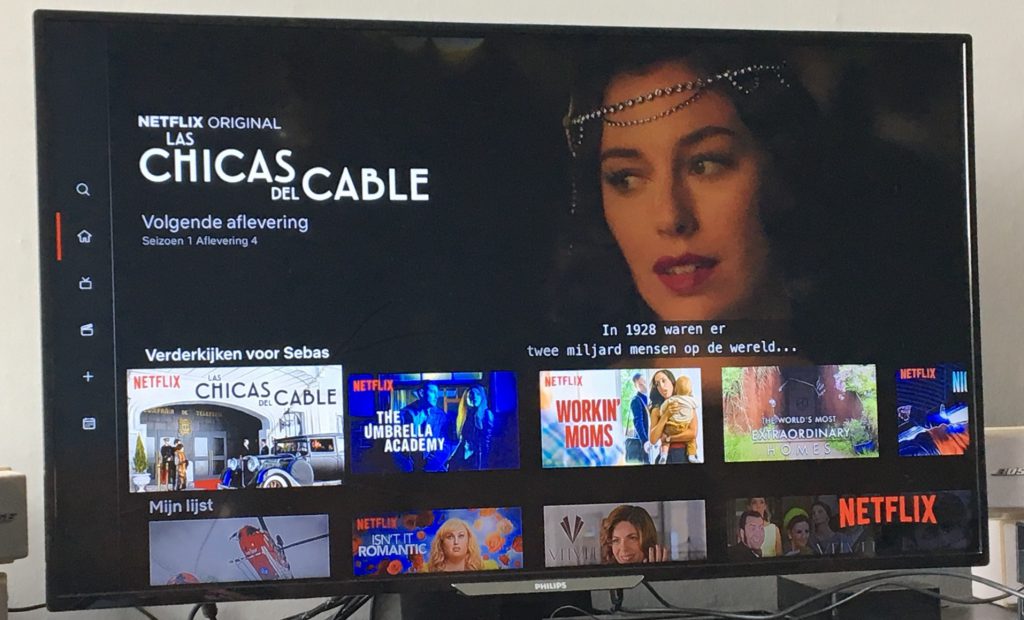 Eerder keek ik ook Gran Hotel. Dat is absoluut een aanrader als je van kostuumdrama's houdt met een vleugje Agatha Christie. Een serie die echt heel spannend is maar ook heel romantisch.
Hilarische moeders
De serie Workin' Moms vind ik ook erg leuk. Het is voor mij natuurlijk heel herkenbaar met een newborn in huis. De struggles van het combineren van het moederschap en werken, het 'roze wolk'-gedoe waar ik ook niet echt kaas van het gegeten en lekker sarcastische humor.
Shop 'till you drop
Ook in het historisch kader zijn de series The Paradise en Mr Selfridge. Beiden gaan over een groot warenhuis in London. The Paradise is over het algemeen wat netter en rustiger. Mr Selfridge gaat over de oprichting en het leven van Harry Gordon Selfridge, van het Londense warenhuis Selfridges. Mr Selfridges zit vol met intriges én is vier seizoenen lang!
Romantisch, me reet
Tot slot is een must see deze maand Isn't It Romantic met Rebel Wilson (Bridesmaids, Pitch Perfect) en Liam Hemsworth (The Hunger Games, The Dressmaker). Wanneer romcom-hater Natalie haar hoofd stoot en in het ziekenhuis bijkomt, lijkt haar leven in een grote romantische comedy verandert. Haar wereld staat op z'n kop als de grootste hottie voor haar valt.
Heb jij nog tips voor mij? Laat het me weten in een reactie. Veel plezier met kijken!