Geen tijd om lang in de keuken te staan maar wil je toch een lekkere en gezonde maaltijd op tafel zetten? Probeer dan zeker dit recept voor wraps met falafel en pittige humus eens!
Makkelijk, gezond en vega!
Ik vind koken best leuk en ik kan het ook best aardig, al zeg ik het zelf. Maar er zijn natuurlijk ook momenten waarop ik geen zin of tijd heb om lang in de keuken te staan. Aangezien je toch wel graag een gezonde hap binnen wil krijgen en niet wéér te zwichten voor Thuisbezorgd, deel ik vandaag dit heerlijke, gezonde én vegetarische recept voor wraps met falafel en pittige humus met je. Want ik weet zeker dat jij deze ook zal lusten!
Wat heb je nodig (4 personen)
Wraps
Pittige humus
400 gram gewassen bladspinazie
Komkommer
400 gram falafel
Optioneel: knoflooksaus en kaas
Wat moet je doen voor deze heerlijke wraps met falafel en pittige humus
Echt waar, een kind kan de was doen voor dit recept dat binnen 15 minuten op tafel staat. En dan neem ik het nog ruim.
Bak de falafels in een koekenpan met wat olijfolie aan beide kanten gaar. Dit duurt zo'n 5-8 minuten. Keer de falafels regelmatig om.
Snijd ondertussen met een kaasschaaf of mandoline de komkommer in hele dunne plakjes.
Dek de tafel
Smeer een wrap in met een laagje pittige humus, leg daarop een een paar plakjes komkommer en een flink hand bladspinazie. Falafels erop en dichtvouwen maar!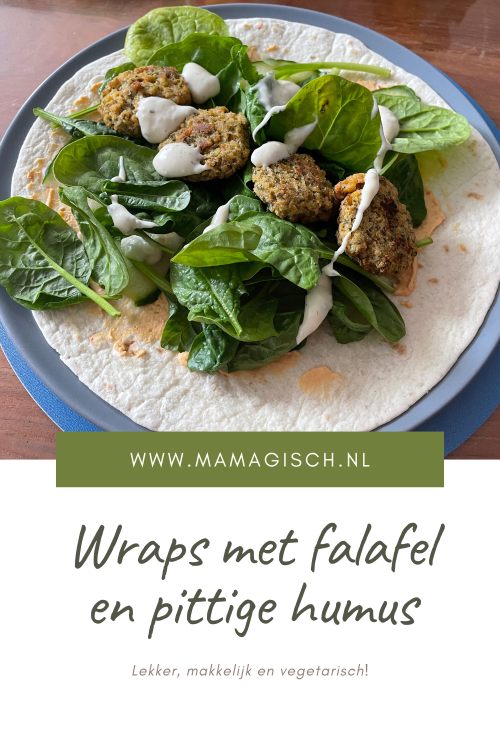 Variaties op dit recept
Zelf vind ik een beetje knoflooksaus altijd lekker op mijn falafels en aan de overkant van de tafel verdwenen nog een paar plakjes kaas in de wraps. Natuurlijk kun je zelf ook nog andere groenten zoals reepjes paprika of een paar plakjes tomaat toevoegen voor wat extra groente.
Eet smakelijk!
Meer lekkere en makkelijke recepten? Klik hier!