Ik ben dol op zelfmaakdrankjes. Met of zonder alcohol, zelf een lekker mixje maken is altijd goed! Een paar weken terug organiseerde ik een Tupperwareparty bij mij thuis en maakte de demonstratrice het volgende recept voor limoenlimonade, dat wij nog een tikkie spannender maakten met een scheutje rum en mooie glazen! Ik mag het recept voor deze mocktail en cocktail gelukkig met jullie delen, want deze is echt heerlijk!
Wat heb je nodig voor 2 liter limoenlimonade
het sap van 4 limoenen
4 eetlepels kristalsuiker (of iets meer als je van wat zoeter houdt)
2 zakjes vanillesuiker
2 liter (koud) water

2 liter kan
Citruspers
Magnetronbestendig schaaltje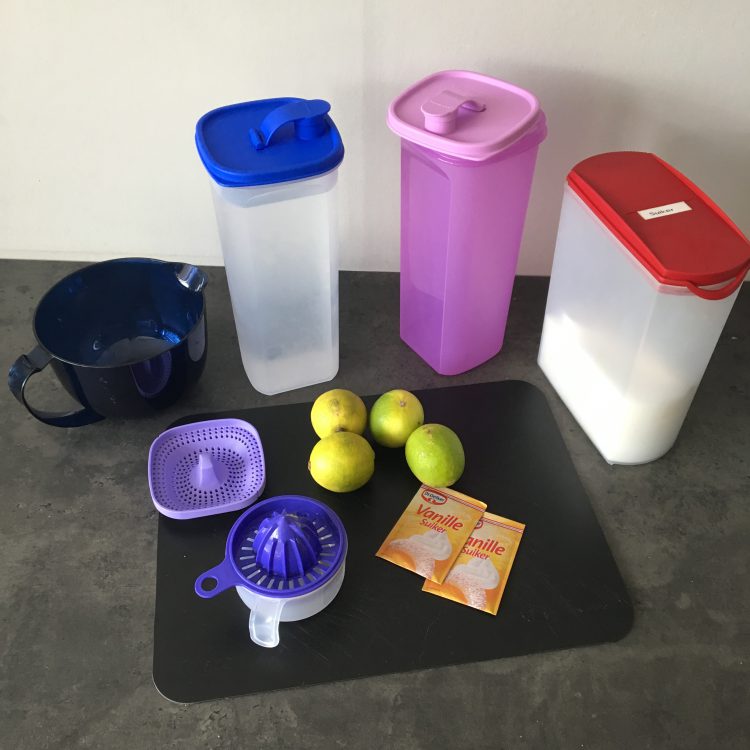 Wat moet je doen
Neem de limoenen en rol ze eerst even goed over het aanrecht. Pers ze vervolgens goed uit en schenk het sap in het magnetronbestendige schaaltje. Voeg hier de suiker en vanillesuiker aan toe en roer het goed door. Verwarm dit ongeveer 30 seconden in de magnetron zodat de suiker goed door het sap wordt opgenomen.
Giet dit mixje in je grote kan en vul de kan verder met water. Zet het in de koelkast om koud te worden of gooi er een treetje ijsblokjes bij voor direct gebruik. Deze limoenlimonade is heerlijk fris en uiterst geschikt voor de warme dagen.
Wil je het drankje nog iets spannender maken, neem dan je mooiste glazen, dip de bovenrandjes in limonadesiroop en daarna in de suiker, vul de glazen met limoenlimonade en giet er nog een scheutje rum bij. Zelf koos ik voor Bacardi, maar een andere witte rum of kokosrum zal ongetwijfeld ook heel lekker zijn!
Geniet van je drankje!


Lees ook:
Maak je eigen advocaat (drankje)