Er zijn van die dagen dat je gewoon weinig zin hebt om echt te komen, maar toch trek hebt in iets lekkers. Op dat soort dagen maak ik gerechten zoals deze Nacho overschotel met pulled chicken. Super simpel en succes verzekerd, ook bij de kids!
Wat heb je nodig?
1 zak (+/- 175 gram) tortilla chips
Ik gebruik zelf het liefst de nacho cheese variant maar je kunt natuurlijk ook de naturelversie gebruiken.
150 gram cherrytomaatjes
1 blikje mais, klein of groot, wat jij wil!
1 blik (400gr) kidneybonen in chilisaus
400 gram kipfilet
barbecuesaus
geraspte kaas en eventueel cheddar
Wat moet je doen?
Verwarm de oven op 170 graden.
Snijd de kipfilet in vieren, anders worden ze niet goed gaar vanbinnen. Kook de kipfilet in een pan met ruim water, ongeveer 10-15 minuten. Je kunt na een minuut of 10 even kijken of de stukjes vanbinnen al wit zijn, zo niet, dan nog even doorkoken.
Snijd ondertussen de cherrytomaatjes in stukjes. Leg ze op de bodem van je ovenschotel. Giet de mais af en doe de korrels ook in de ovenschotel. De kidneybonen gaan met saus en al erbij. Roer dit lekker door elkaar.
Doe de gekookte kipfilet in een grote kom. Trek met twee vorken de kip uit elkaar. Je kunt dit ook doen met een handmixer met van die haken waar je ook de slagroom mee klopt. (Let op, geen garde!). Maak de pulled chicken aan met een flinke scheut barbequesaus en schep het boven op je prutje in de ovenschotel.
Daarna de tortillachips eroverheen en aftoppen met een flinke hoeveelheid geraspte kaas. Wil je het extra lekker (maar een tikkie minder 'gezond') maken, scheur dan ook een paar plakjes cheddar in kleine stukjes en strooi die eroverheen.
Nog eventjes een half uurtje in de oven op 170 graden, en je comfortfood is klaar! Combineer het met een frisse salade of met een schaaltje rauwkost. Of gewoon lekker zo, want hé, jouw leven 😉
Eet smakelijk!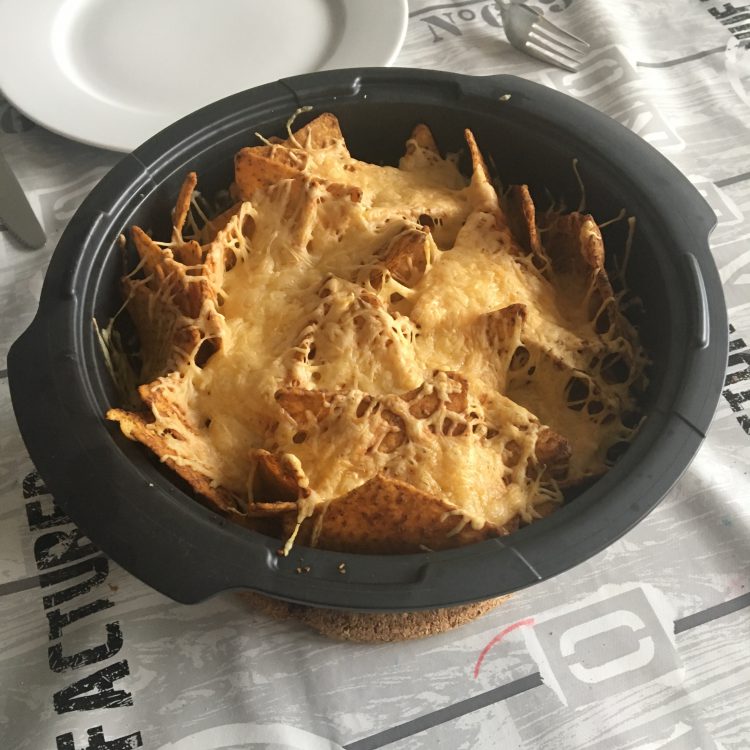 Vind meer heerlijke en kidsproofrecepten hier!