Voor pasta kun je me 's nachts echt wakker maken. Het maakt me eigenlijk niet uit welke soort of met welke saus dan ook. Spaghetti, cannelloni, penne, lasagne.. als er maar koolhydraten in zit, haha. Fijne bijkomstigheid is dat iedereen hier in huis dol is op pasta, zelfs de peuter. En waar kun je nou nog beter groente in verstoppen dan in pastasaus? Ik maak dan ook graag zelf pasta's from scratch en vandaag geef ik je het recept voor een heerlijke kidsproof pasta Alfredo. Hoewel zelf verse pasta maken ook erg lekker is, ga ik dit keer voor de makkelijke, snelle variant met voorgemaakte penne.
Ingrediënten voor 3-4 personen:
250 gr. ongekookte pasta (bijv penne of farfalle)
200 ml slagroom
2 kipfilets
eventueel spekblokjes
300 gr bevroren bladspinazie in deelblokjes
1 kippenbouillonblokje
1 teentje knoflook (of 2, of 3 😉 )
400 ml gekookt water
100 gr geraspte parmezaanse kaas
olijfolie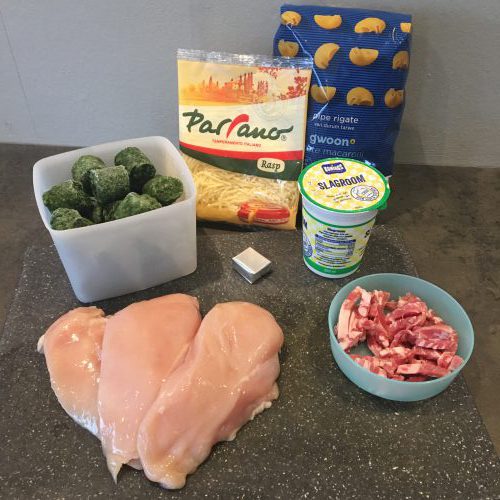 Wat moet je doen?
Snijd de kipfilet in kleine stukjes. Bak in een grote hapjespan (waar je een deksel voor hebt) de spekblokjes. Als je liever geen spekblokjes gebruikt, doe dan een scheutje olie in de pan en pers daarin het teentje knoflook. Bak de kipstukjes hier in tot ze goudbruin zijn. Kook ondertussen het water. Los het bouillonblokje hierin op, en gooi het met de slagroom in de hapjespan. Doe hier ook de pasta bij. Zorg dat alles goed onder het vocht staat. Breng het geheel aan de kook met de deksel op de pan en laat het zo'n 10 minuten koken. Je zult zien dat het redelijk snel inkookt. Voeg vervolgens de geraspte parmezaan toe en meng dit goed. Daarna de deelblokjes spinazie erbij en nog 4-5 minuutjes laten pruttelen. Ik zet meestal nog een schaaltje met tomaatjes en komkommer erbij voor de extra groentjes en een frisse smaak bij de, toch wel, machtige pasta maar een frisse salade zou ook heel goed kunnen.
Eet smakelijk!