Mijn kinderen zijn, net zoals vele andere kinderen, verzot op pannenkoeken. Overigens vinden wij dat zelf ook niet vervelend alleen is het zo dat pannenkoeken nou niet het meest gezonde gerecht is. Maar aangezien ik de koningin van verstopte groenten ben, maken wij gewoon pannenkoeken die tóch een gezond tintje hebben, zoals dit recept voor prinsessenpannenkoeken.
Gezondere pannenkoeken
Inmiddels zijn er al meerdere 'gezonde' varianten van pannenkoeken hier in huis voorbij gekomen. Ik maak geregeld bananenpannenkoekjes en ook pannenkoeken met courgette staan hier vaak op het 'de-kinderen-moeten-snel-nog-even-wat-eten-menu'. Eigenlijk staat dat menu vooral vol met snelle gerechten waar je makkelijk een extra portie groente aan toe kunt voegen zonder dat ze dat echt doorhebben. Toevallig had ik deze week nog een pakje bietjes liggen dat op moest en ik bedacht me dat die prima door het beslag van pannenkoeken zou kunnen. Dus voor het gemak gooide ik alle ingrediënten in de blender en ik moet zeggen, dat pakte prima uit!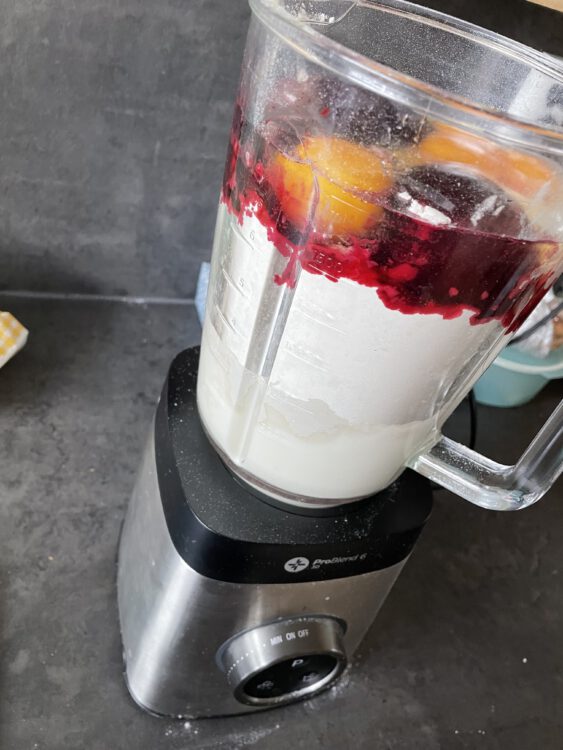 Voor 10-15 prinsessenpannenkoeken (ingrediënten)
400 gram bloem
700 ml melk
300 gram gekookte bietjes (ik had ze uit zo'n vacuümverpakking)
4 eieren
Dit is duidelijk een recept voor de makkelijke keukenprinsessen. Gooi gewoon alle ingrediënten bij elkaar in de blender en lekker laten draaien. Je krijgt vanzelf een roze substantie. Misschien eventjes met een garde nog even nakloppen om bloemklontjes tegen te gaan en daarna kun je gewoon lekker pannenkoeken bakken zoals je gewend bent. Klontje boter, drupje olie of wat kokosvet in de koekenpan en gaan met die banaan.
Deze prinsessenpannenkoeken zijn licht zoetig door de zoetigheid van de bietjes. Aangezien ik totaal geen poging doe om pannenkoeken echt gezond te maken, werden ze hier gewoon belegd met suiker, stroop of chocopasta. Uiteraard kun je ook aan de slag met allerlei culinaire combinaties, maar he, daar bak ik geen pannenkoeken voor, haha.

Eet smakelijk!