Doordeweeks ren ik vaak als kip zonder kop door het huis en eet ik wel een keertje als ik op mijn werk ben, of als de meiden rustig aan het spelen zijn. Maar in het weekend ontbijten we altijd graag gezamenlijk aan tafel met lekkere broodjes en vooral met gezelligheid. Of met pannenkoekjes. Dit recept voor bananenpannenkoeken is super simpel, het enige wat je nodig hebt is een klein beetje geduld.
Wat heb je nodig: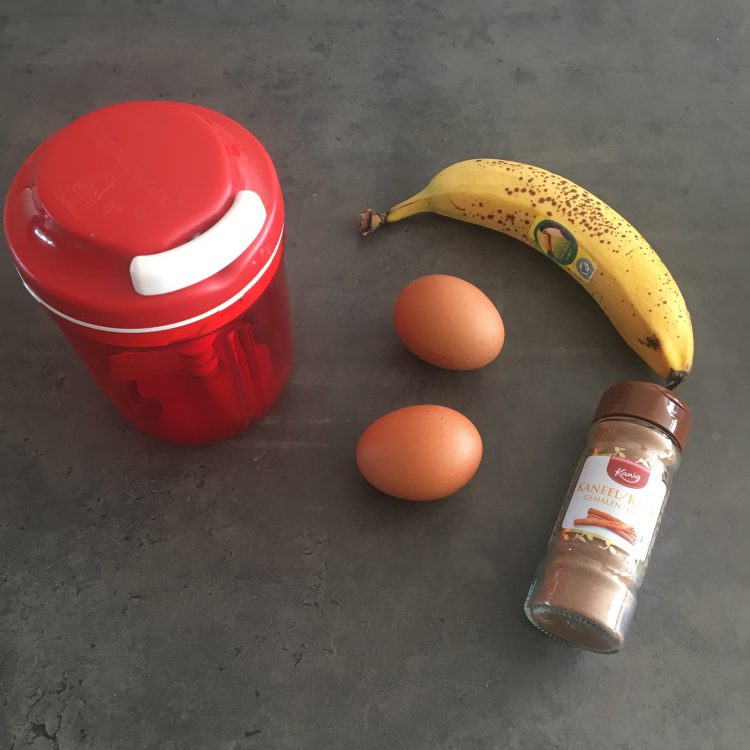 2 eieren (L)
2 bananen
flinke snuif kaneel
Keukenmachine
Ja ik weet het, op het plaatje staat maar 1 banaan. Maar ik had grote eieren, dus even een banaantje extra
Wat moet je doen:
Het maken van deze bananenpannenkoeken is echt te simpel voor woorden. Doe alle ingrediënten in de keukenmachine, hakmolentje, of zoals ik heb gedaan, de TurboMax van Tupperware, en maak alles goed fijn. Zo, je beslag is al klaar.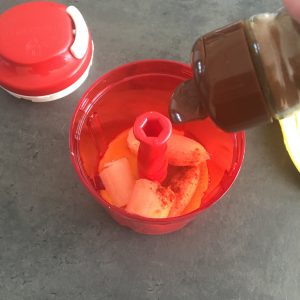 Verwarm je koekenpan goed, maar als de pan goed warm is, zet je de temperatuur een ongeveer op half vermogen. Anders heb je kans dat je bananenpannenkoeken crêpe banane cremée worden. Dit komt door dat de bananen veel eigen suikers bevatten en die dus makkelijk aanbakken. Wat betreft het bakken, heb geduld. Laat de onderkant eerst goed gaar worden voordat je omdraait, anders wordt het een zooitje.
Beetje olie in de pan en dan doe je in een grote koekenpan 3 pannenkoekjes tegelijk. Met dit beslagje kun je 6 pannenkoekjes maken. Dus prima als een goed ontbijt of als lekkere zoete lunch.
Giet er nog een beetje ahorn- of maplesirup overheen voor dat extra zoetje, maar eigenlijk hebben deze bananenpannenkoekjes dat helemaal niet nodig. Wat wel heel lekker en een stuk gezonder is, is een flinke lading aardbeitjes erbij 😉
Eet smakelijk!


Ben je op zoek naar meer makkelijke recepten? Maak bijvoorbeeld eens een lekker bananenbrood!