Zoals ik al eerder vertelde, ik ben dol op makkelijke recepten. Doordeweeks denk ik goed na over hoeveel tijd ik die avond heb om te koken. Ook houd ik er rekening mee dan ik geen nieuwe recepten uitprobeer als de peuter mee-eet. Strijd aan tafel hebben we al genoeg. Deze week kreeg ik weer inspiratie om wat lekkers bij elkaar te gooien en dat werd noedels met teriyaki kip en broccoli. Ook goedgekeurd door de peuter!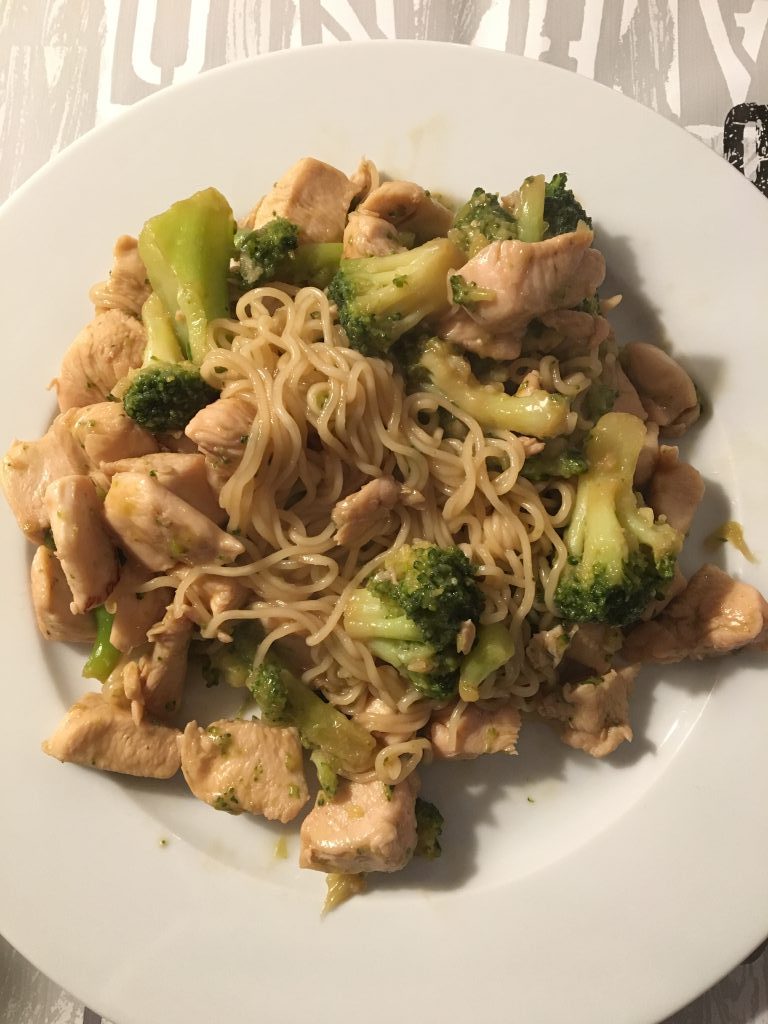 Wat heb je nodig?
(2 personen en een peuter)
200 gr woknoedels
450 gram broccoli
2 kipfilets
Teriyaki woksaus
1 of 2 teentjes knoflook (of natuurlijk meer als je er van houdt)
Je kunt de ingrediëntenlijst natuurlijk zelf aanpassen naar het aantal personen dat mee eet. Grote eters, dan wat meer noedels en vlees. Of denk eens aan het toevoegen van sperzieboontjes of peultjes, die passen prima bij een recept in Aziatische stijl. Met dit basisrecept voor noedels met kip kun je alle kanten op!
Wat moet je doen?
Snijd de kipfilet in blokjes en marineer dit in 2 à 3 eetlepels woksaus. Laat dit even intrekken. Voor een extra lekker resultaat zet je de kipfilet een nachtje in de koelkast, maar daar moet je maar net van te voren aan denken natuurlijk. Snijd de broccoli in roosjes en pers de knoflook. Verwarm een scheut olijfolie in een hapjespan en bak daarin de geperste knoflook. Voeg vervolgens de kipstukjes toe en bak ze lekker bruin.
Kook ondertussen de broccoli in een paar minuten gaar. Doe de broccoliroosjes in de hapjespan en wok dit even mee.
Kook nu de woknoedels in 2 minuten gaar en voeg ze ook toe aan de hapjespan. Doe er nog een flinke scheut woksaus bij en roer het allemaal lekker door elkaar.
In 15 minuten op tafel en ook nog eens lekker en semi-gezond!
Eet smakelijk!
Meer makkelijke recepten
Ben je op zoek naar meer Mamagische makkelijke en kidsproof recepten zoals deze noedels met teriyaki kip? Klik hier! Natuurlijk ben ik niet de enige moeder die makkelijke en snelle recepten verzamelt. Lees dus zeker ook de blog van online magazine Moms at Work eens!